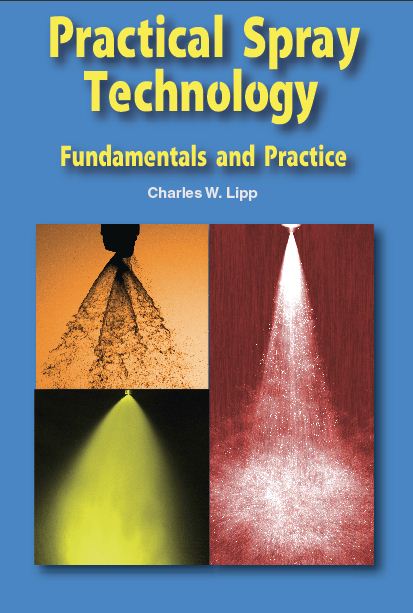 Format: Hardback (Case binding) 6 x 9 inches
Pages 253, including index
Author: Charles W. Lipp
Copyright 2012
ISBN: 978-0-578-10090-6
Printed in the United States of America
USA orders
Order from Amazon.
Link to order on Amazon
.
Practical Spray Technology: Fundamentals and Practice
by Charles W. Lipp
---
Thousands of industrial applications use spray nozzles and atomizers to achieve specific and critical results. Optimizing these systems has the potential to reduce your costs and improve your product quality. Who buys the book?
Process Engineers
Process Operators
Designers
Maintenance Supervisors
Research Engineers
Engineering Graduate Students
This book is filled with practical advice for the person who needs to solve a spray issue quickly. The structure allows you to find what you want and apply it to resolve the problem. The author has years of experience in spray-nozzle and system consulting where he provided practical insights into design and system questions. For readers who want to understand spray science and spray modeling to solve specific problems, this book focuses only on the essential fundamentals.
Sections and Chapters
The chapters are organized into five sections to allow you to quickly find the information you want. The design considerations in Section 4 are the coalescence of over 25 years of the author's spray consulting experience in applying spray nozzles and atomizers to solve problems.
Section 1: Chapters 1-3 Introduction overview of historical developments, classification of types of spray nozzles, and overview of spray applications

Section 2: Chapters 4-6 Spray Fundamentals Measuring spray characteristics, spray fundamentals, and modeling

Section 3: Chapters 7-11 Spray Nozzles and Atomizers Spray nozzle types and technologies, different types of spray nozzles, examples, and performance characteristics

Section 4: Chapters 12-15 Design Considerations system reliability, technology selection, and operational considerations
Section 5: Appendix
Glossary of terms, nomenclature, unit conversions, and selected physical properties

About the Author
Charles W. Lipp is the Principal Consultant at Lake Innovation LLC with expertise in the areas of spray science and technology, reactive process mixing, and process scale-up. His diverse technical interests include cavitation and multiphase flows with application to chemical and plastics manufacturing processes. He was a Technical Leader in the Engineering and Process Sciences: Fluid Mechanics and Mixing group of the Dow Chemical Company.

His 35-year career at Dow included work on numerous process applications of spray and atomization technology and design of process injector systems. He led projects developing and scaling-up production process technology that resulted in over 15 US patents. Chuck edited the Sprays article in the Kirk-Othmer Encyclopedia of Chemical Technology, 5th edition, and authored several peer-reviewed journal articles. He is an active member of AIChE and ILASS (Institute for Liquid Atomization and Spray Systems) Americas. He serves ILASS Americas as a member of its board of directors.

His BS degree in chemical engineering from Iowa State University provided the foundation for his expertise.

He also does volunteer work with Engineering Missions International, eMI, on humanitarian projects. Water and sanitation have been the focus of these efforts. This work gives him the opportunity to help children and families around the world step out of poverty and into a world of hope. Volunteer projects with eMI require a creative use of skills to match the local cultural and physical environment. Photography is one of his hobbies. The images used in this book are examples of his work.
People who have read the book say…
"…I found just what I needed to analyze spray application and to understand how to apply patternation to produce the best design."
"… a good tutorial for my graduate student learning about spray measurement methods."
"… air atomization example calculations helped me to identify my problem and to solve it. Thanks!"
"… my copy was immediately borrowed by another engineer working on a project with spray distribution."
"… helped me to troubleshoot a rotary problem."
---
Spray Drying Essentials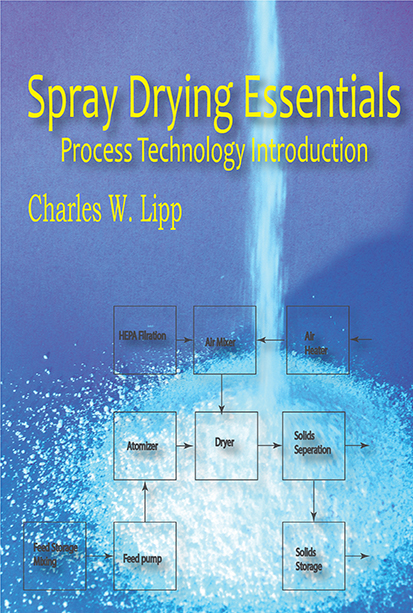 This e-book on the spray drying process is now available on Amazon.

Link to order on Amazon

Spray drying is used in the production of thousands of products, including food, pharmaceuticals, inorganic chemicals, and industrial catalysts. The intended audience includes operators, managers, or designers of spray-drying systems and people new to spray drying who want to improve their existing dryer operation. The author's goal is to provide readers with the necessary information to ask better questions so they can select or improve a specific dryer system and application. Each of the 10 chapters provides practical perspective, and the book contains about 30 illustrations.

Chapter titles:
Chapter 1: Introduction and fundamentals
Chapter 2: Drying of Drops and Particles Chapter
3: Dryer and Vessel Configurations
Chapter 4: Feed System
Chapter 5: Atomization
Chapter 6: Product Collection Systems
Chapter 7: Powder Finish Processing
Chapter 8: Sanitation, Safety, and Environmental Issues
Chapter 9: Dryer Scale-up and Scale-down
Chapter 10: Control and Optimization of Dryer System
References
Questions- to test yourself with answer key